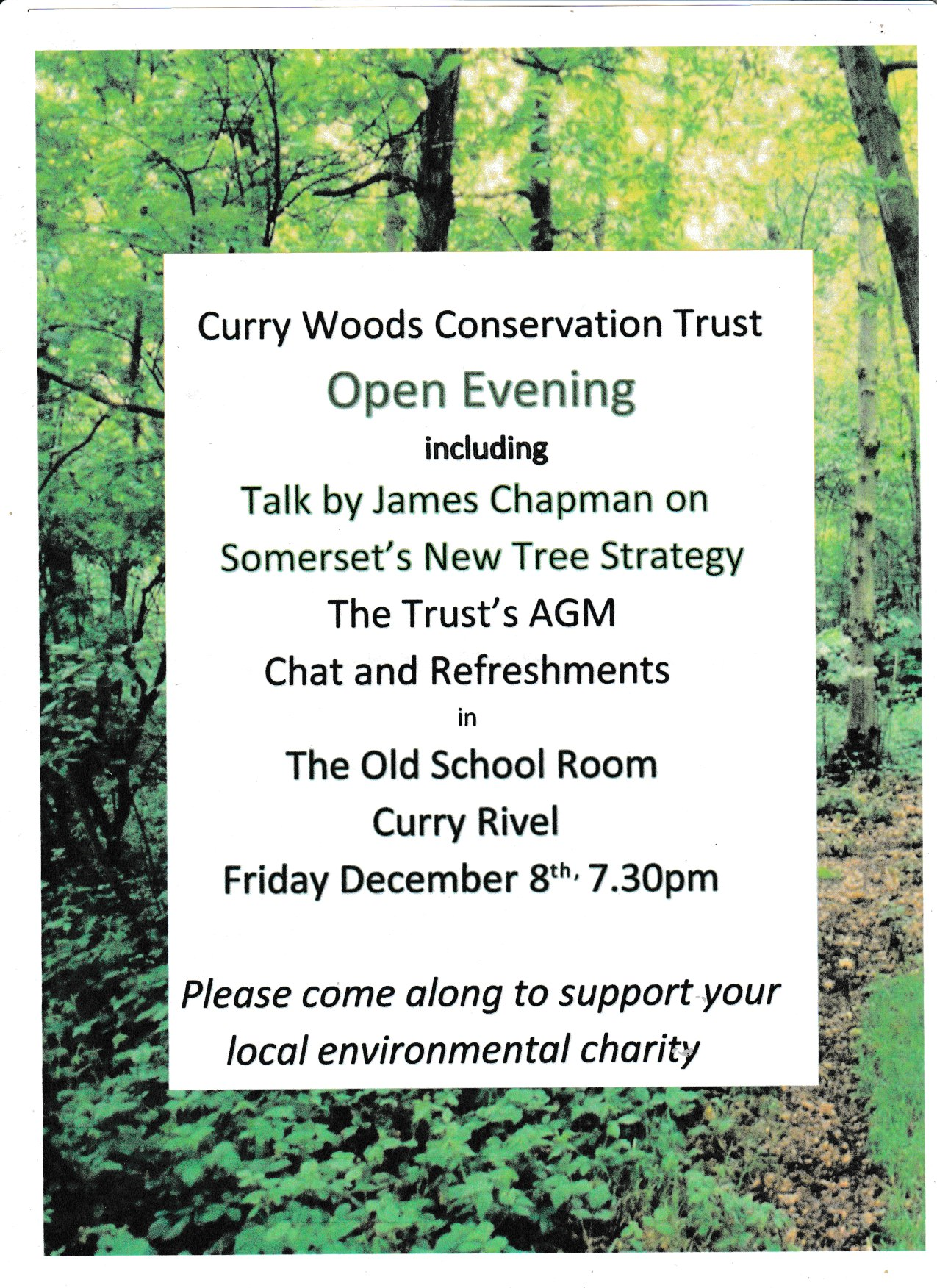 James Chapman is leading the Somerset County Council tree strategy, with ambitious plans for planting trees in the county, which has less tree coverage than nearly all the rest of the country. The Trust is very involved and hopes to plant more trees in Curry Rivel. We are so well positioned, being on the ridge above the Levels to north and south, to slow down the flow of rainwater from the ridge to the Levels by
capturing it in our trees, which will also capture carbon and increase biodiversity.
Please come along to our Open Evening on Friday, December 8th at 7.30pm in Curry Rivel Old School Room, to hear James on this very important topic at this time of climate change. The Trust AGM will be brief but will inform you of what we have been doing over the past year and our plans for the coming year - we would welcome additional suggestions to consider. Peter's latest blog -
/peter-s-blog/floods-trees-and-water-butts
- tells you how our tree planting is helping to prevent flooding and also what measures we can all take to help. After the more formal business of the AGM there will be a chance to talk to James and the Trustees over cups of tea/coffee, with a slice of cake on the side and of course there will be a handy box should you feel like making a donation to the Trust!
Our trees from the 20/21 and 21/22 plantings are already showing well above their guards in many cases and we have been very pleased with the survival rate. Congratulations to all our volunteers who planted -the schoolchildren and their teachers, the Scouts, the WI and many others. The wild flower test plots have so far been less successful as they seem to be supporting more agricultural weeds, left over from the site's previous life, than the wild flowers we hoped to see after seeding them with a local mix. We will talk more about these at the AGM.
Finally if you can visit the CWCT site in late November you should still be able to see the range of beautiful colours in the mature woodland trees. Sadly they will all be gone in December! A wander through the mature woodland will also give you a chance to spot several different types of fungi as the recent wet but warm weather has been just what they like.
An Amanita species - pretty to look at but not to be eaten! Although there are perfectly harmless species of Amanita others are very poisonous so you need to be an expert to risk adding them to your cooking.