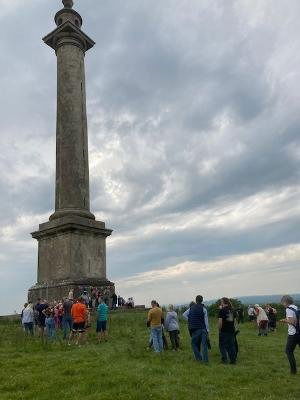 Not much has happened on Trust land in the first week of July, although a great deal has happened in the country! To get a break from politics why not read Peter's latest CRN article following the link here:
/peter-s-blog/10-noah-regions
It may surprise you!
June started with a great, even monumental!, success for the Trust. Thanks to the kindness of Tim and Ellen Schroder of Burton Pynsent House, we were able to open the monument on June 3rd so people could scale the 170 step spiral staircase to the small viewing platform and the magnificent views seen from there.
It's a tight squeeze inside so for safety we had to restrict it to 9 people at a time inside the monument - resulting in some long queues and a constant stream of people from 1-6pm.. We appreciated the cheerful atmosphere and for most the wait in the field was not unpleasant - though a sudden downpour rather changed that! Thankfully it was in the last hour of opening so we were able to squash most people into the space at the bottom of the monument to keep (almost) dry, but anyone without the forethought to bring wet weather clothing was destined to get very wet on their way after leaving us!
Hats off to the lady who cried her recalcitrant dog two thirds of the way up and all the way down! Also to the amazing lady who made it to the top after brain surgery which had led to her having to learn to walk again. A couple of dogs and lots of children went up, though one dog and one child flatly refused to climb, preferring the safety of ground level!
We had cleaned every step the day before, removing about 80kg of dusty rubbish over a two hour period so were pleased no one complained on the day!
We asked for donations for both climbing and the drinks we had available and people were very generous - with gift aid on donations we have raised over £600 for the Trust. This will go towards future plans for good signage and information boards as well as woodland maintenance.
You will notice that there is a large amount of space at the entrance to the land with no trees on it - this is going to be our wildflower meadow. Volunteers have been setting up a trial to see how best to get a lovely but economical meadow in a reasonable timeframe. Peter wrote an article about this for the April CRN and you can also see it by following the link:
/peter-s-blog/april-2022-wildflowers
.
On June 19th a survey of plants already present was made - and 38 species of grasses and other plants were counted!. The grasses are rather rampant at present so we will need to introduce some yellow rattle in the autumn to reduce their growth. A list of the species seen can be found on another page - click here:
/species-list
Elsewhere you will have seen the barrier at the gate to the lane - this is to prevent unwanted vehicles on the site but pedestrian access is unimpeded and the barrier can be opened on request or when events are going on. We also have the Trust name on one of the barrier posts so it's obvious where you are! You also won't be able to miss our crane sculpture - brilliantly made by Alan out of the old gate and a few other recycled bits and bobs. Its' eye follows you as you walk past! There is now commemorative bench in the clearing - please treat it with respect. We hope there will be more benches in the future.
In the mature woodland things have been happening too! One side of the Trust land is marked with white painted stakes and, near the bottom, a clearing has been designated for an experiment. It will eventually be fenced off with deer fencing to allow regeneration to take place. Frustrating for our (very) friendly deer but their love of new shoots means we have to exclude them! One side is going to be fenced first to check the method works (being rough ground and on the slope means it's not easy) and, all being well, the other sides will follow.
The official footpath across the land has been marked and the grass on it cut through the new trees. At the moment it is difficult to get into the mature woodland from it as there is a steep drop down but Somerset Council footpaths team will be cutting steps down in the (we hope) near future.- but please remember to keep your dog on a lead and pick up after him/her!